Cyprus Weather
Summer, Autumn, Winter, Spring
Temperatures throughout the Year
Current weather and 7-day forecast
One of the benefits of being a Mediterranean island is plentiful sunshine throughout the year, and Cyprus is no exception. In fact, Cyprus weather epitomizes the ideal weather of the region with sunny days and fine temperatures almost every day. Extremes of temperatures are rare, meaning Cyprus weather has something to offer every month of the year, whether it's swimming (as late as November) or enjoying cultural sites and festivals (all year long). While seasonal fluctuations in Cyprus weather are not drastic, however, they are different. Here's what to expect:
Cyprus weather: Summer, When It Sizzles

For just about Summer stretches from mid-May to mid-October and means high temperatures, cloudless skies and cooling breezes from the sea. It's the ideal season for swimming, sunbathing and a whole range of watersports from sailing to scuba diving. At this time of year, explore the archaeological sites early in the morning or in late afternoon, avoiding the hottest part of the day. It's always a good idea to bring along sun protection, such as sunscreen and a broad-brimmed hat. Even in the height of summer when it's 32C(90F) degrees at the beach (and warmer inland), temperatures are refreshingly cooler in the Troodos, making the mountains ideal for hiking or simply relaxing. You can find your ideal Cyprus weather temperatures even in the middle of the summer.
The days of September and October are still sunny and the water warm enough for comfortable swimming. Basically, it's still summer. In Lemesos, the first ten days of September bring the annual Wine Festival, a buoyant period not to be missed.
Cyprus weather: Autumn (Fall) Forecast -Warm and Sunny

Toward the end of October evenings do tend to get cooler, however. In October and through November the leaves change color in the Troodos and vineyards take on gold and crimson hues against a backdrop of crystal clear sunlight. In Cyprus even mid-November can feel like summer, but by month's end medium-weight apparel for the late afternoons and evenings will enhance the traveller's experience. It is still possible to enjoy swimming, while inland excursions to villages and vineyards for wine tastings can be very enjoyable. Fall also brings with it the annual Kypria festival, with prestigious local and international musical and dramatic performances at venues throughout Cyprus.
Cyprus Weather: Winter -An Active Season

December and January are the months of Mediterranean winter, bringing the possibility of rain, but still an average of six hours of bright sunshine a day. This is the time of year when smaller Mediterranean destinations shut down for the season, but not so Cyprus. The island is a major business centre and has many important heritage sites and museums, all at their least crowded in winter. The cultural calendar is also alive and well throughout the winter, with new events coming all the time. The summer resort of Agia Napa, for example, offers a "Cultural Winter" with classical music concerts and modern and folkloric dance performances. Into early February there is occasional rain, and often snow in the Troodos - ideal for skiing!
Cyprus Weather: Spring Delights

The first orchids bloom in January in Cyprus, and by mid-February the countryside is already alive with fresh green meadows and almond trees in bloom. March days can still be cool (daytime Cyprus weather temperatures around 19C or 65F, 9C or 40F at night) but steadily moderate. Early spring is a wonderful time to visit to Cyprus, with pleasant daytime temperatures and many of the ancient ruins framed by a carpet of red anemones and other wildflowers.
In April and into the middle of May spring is in full force. This is an ideal time for nature hikes and off-road adventures in the pristine Akamas Peninsula. Cyprus has 1,950 species of flowering plants, 140 of which grow nowhere else but on the island, and in the Akamas alone, there are 700 plant species, of which 40 are endemic. From February to April, pink cyclamen sprouts up from rocky foothills and thickets and forms a riveting adornment to the Baths of Aphrodite. From March to April, the pink wavy-leaved monkey orchid (Orchis italica) grows in dense patches around Pafos. If in summer Cyprus is the place to bask in the sun, then spring is the time to savor the natural beauty of the island in bloom.
Temperatures throughout the Year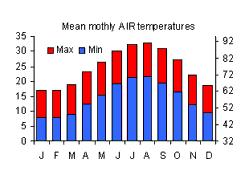 Cyprus temperatures [mean monthly -maximum (usu for day) and minimum (usu night) values]. Celcious on the left, Fahrenheit on the right.

Cyprus hours of daily sunshine (mean monthly)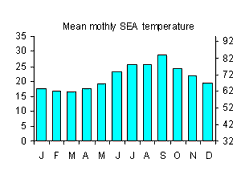 Cyprus sea temperatures (mean monthly)
Cyprus Weather Forecast
The boxes below show the current weather in Cyprus. Click boxes below for a 5 day and 7 Cyprus weather forecast (Paphos. Limassol and Larnaka)
More than 300 days of sunshine a year
What to Pack? (what to wear and do according to season and the Cyprus weather)
General information and suggestions on what to wear and do, according to the seasonal weather in Cyprus.
April - May
Cyprus weather: Days are pleasantly warm, but temperatures may fall a bit at night.
Clothing: Medium-weight and summer apparel: Light woollies or long sleeved cotton for the evenings.
Activities: Excellent season for those who prefer to enjoy nature, as the countryside is green and flowers are in blossom.
June - July - August
Cyprus weather: Warmest months of summer
Clothing: Very light weight summer clothing.
Activities: Ideal for swimming and all beach/water activities.
September - October
Cyprus weather: Warm days, cool October evenings.
Clothing: Light weight apparel for the day and medium-weight for the evenings in October.
Activities: Swimming and water-sports are still at their best.
November
Cyprus weather: Pleasantly warm days
Clothing: Medium-weight apparel. Light Woollies.
Activities: Ideal weather for autumn travel. Lunches in the open-air still a delight. Sunbathing and even swimming can still be enjoyed, as well as most outdoor sports.
December - January
Cyprus weather: Winter time for Cypriots... Autumn for our foreign visitors! It may rain occasionally yet the promise of glorious sunshine is still there.
Clothing: Winter clothing; not heavy coats though!
Activities: Outdoor activities and excursions can be enjoyed.
February
Cyprus weather: The possibility of exceptionally warm days. Almond trees in bloom, occasional rain, and mild day time temperatures are the harbingers of spring. It can be quite cold however in the evenings.
Clothing: Winter apparel.
Activities: Conditions are ideal for snow skiing on Troodos mountains.
March
Cyprus weather: Moderating weather with nature at its best.
Clothing: Winter apparel with medium-weight wear.
Activities: Most outdoor activities can be enjoyed, and March is an excellent period for long country walks.